It's a given that almost every room in your home will have a radiator installed, and although they are a necessity, keeping us warm throughout even the harshest of winters, they can become an unreasonable eyesore when they happen to clash with the theme or layout of your room or in general just aren't very visually appealing.
From Radiator Shelves to a fresh new coat of paint, today us here at RBUK Hardware will share some of our top tips for revitalizing and making the most out of the radiators in your home.
1. Add extra functionality to your Radiator with a Radiator Shelf
One of the simplest and most cost-effective ways of sprucing up your old radiators is with the addition of an Easyfit Radiator Shelf. With no wall fixings or wall drilling required, Radiator Shelves are a quick and easy way to not only improve the appearance of your radiator but also an effective way to expand storage space within your home.
Installation is as simple as screwing brackets into the shelf and attaching it to any of the radiators in your home, so no matter how little DIY experience you have, you can rest assured that Radiator Shelves are an ideal and straightforward shelving solution that almost anybody can setup.
Our Easyfit Radiator Shelves come in a variety of different finishes, from Matt White and Gloss White, to Oak and all fixings and installation instructions are included for free as standard.


2. Give your radiator a fresh new coat of paint
A fresh new coat of paint can effectively improve the appearance of any radiator, especially if your radiator is on the older side and hasnt seen a fresh paintjob in quite some time. 


Choosing the perfect colour for your radiator is key when deciding to paint it, because if you aren't careful you may end up with a radiator that completely clashes with your walls and decoration in terms of colour scheme. 


Transform your radiator into a standout focal point of your room by adding a splash of colour that perfectly contrasts with the walls, for example you could have a charcoal radiator in a room with white walls. For rooms such as a child's bedroom you could have a brightly-coloured radiator to make their play area just that tad bit more vibrant. 


3. Conceal your radiator by rearranging your furniture
Before you explore DIY options such as
Radiator Shelves
and paint you might find that it's easy enough to just rearrange your furniture in a way that obscures the radiator from the sight of any prying eyes. For example a large sofa or rocking chair may be enough to hide your radiator. 
However, if you are going to use this solution then you should ensure that your furniture is placed in front of your radiator at an angle so that the future does not
block the heat from the radiator and prevent it from circulating around the room.


4. Conceal your radiator with a radiator cover
If you have a more expensive radiator that you want to protect or have children that may burn themselves via touching the radiator then you may want to consider a radiator cover. 


Radiator covers come in all sorts of shapes and sizes to match any room, they can disguise and protect your radiator and also prevent younger children or animals from tampering with or touching the radiator while it is turned on.


Radiator covers can also act as extra shelf space to place decoration or any other household items on, although we feel 
Radiator Shelves
are a much more affordable method of achieving this.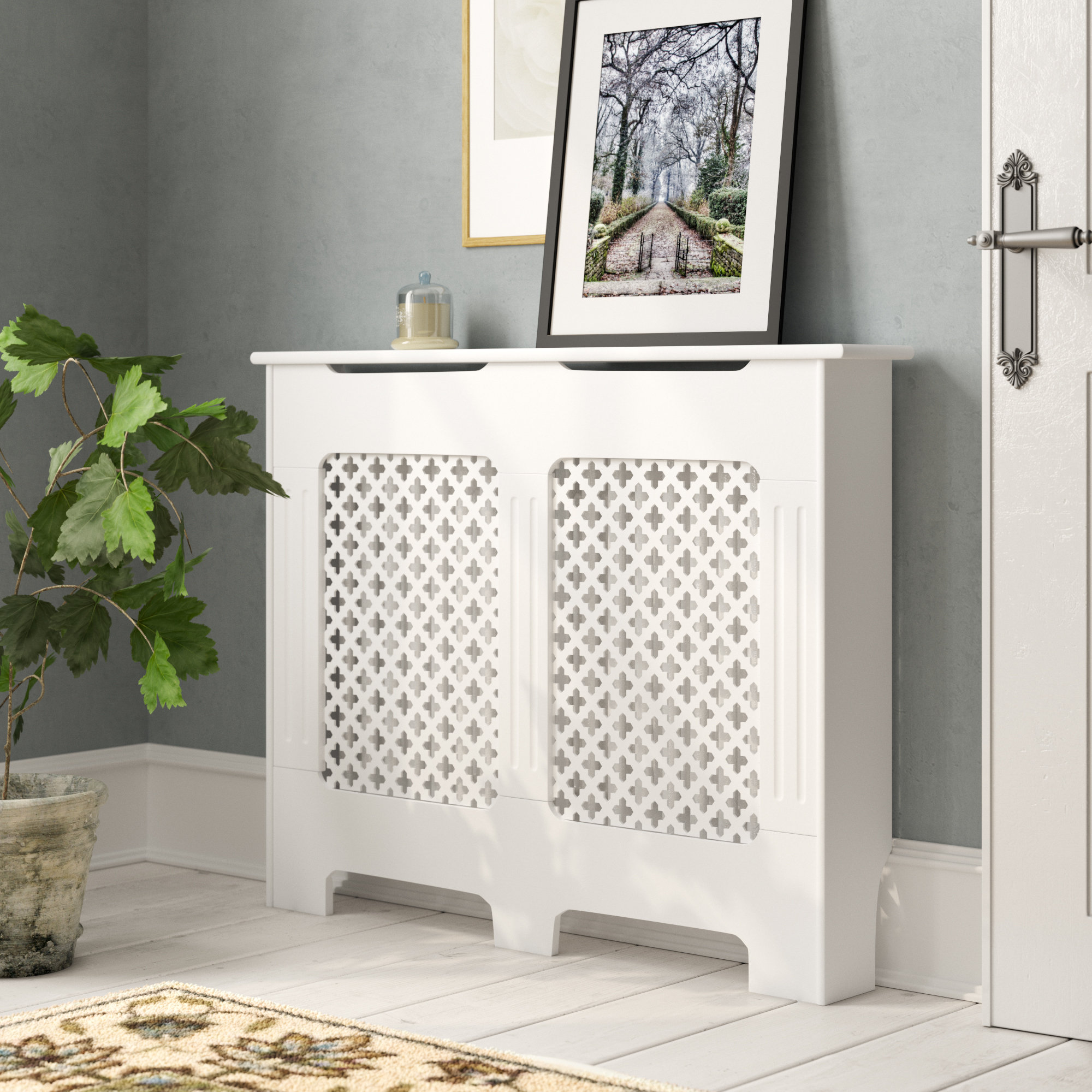 5. Consider a new radiator that fits your home's style better
The theming, style and ethos of your home can greatly impact the appearance of your radiator so it's important that they match. For example smaller rooms may be in need of a wall-mounted radiator in order to save as much space as possible. Not every room and radiator are a perfect match so it's best to consider all options and find what is best for you.  
Jan 28, 2021

Category:

Blog
Comments: 0